Within the past few years, the Green Bond market has shown exponential growth. In Euros alone the market has reached a size in excess of EUR 100bn with close to 100 issuers contributing to the growing market volume. We believe that this dynamic market development will continue in the future, as awareness among market participants about the importance of sustainable finance increases.
Issuer diversification in the Green Bond market
A diversified issuer base not only allows investors to choose from a range of market segments when entering the Green Bond market, it is also a sign of the versatility that Green Bonds offer as a funding tool for environmentally friendly projects. In the Euro market, Corporate Issuers form the largest group followed by Supranational/Agency Issuers, Banks and Sovereigns.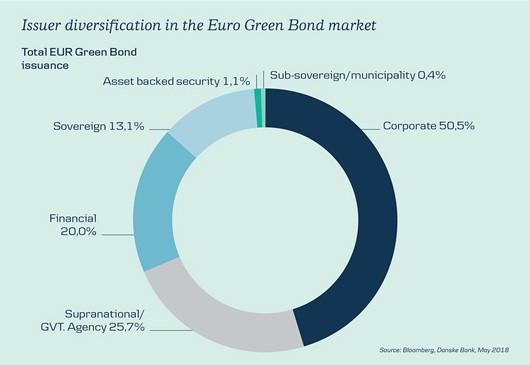 Well established investor base in Swedish Krona
The Nordic region has been an early adopter of Green Bonds. It is thus no surprise that the well-established investor base in this area is drawing attention from a range of Green Bond issuers, both domestic and international. This is particularly the case in Swedish Krona, which is the fourth most used currency for Green Bond issuance. A strong public sector issuer base is the main driver behind Swedish Krona denominated Green Bond issuance. While the Norwegian Krone market is smaller in size, it relies increasingly on issuance from the corporate sector.
SEK Green Bond issuance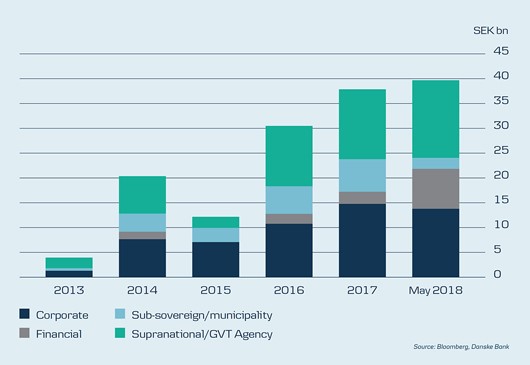 Social and Sustainability Bonds are catching up
Investors looking at Social and Sustainability Bonds are finding a relatively small market space when compared with Green Bonds. The combined volume of Social and Sustainability Bonds account for just over ten per cent of Green Bonds outstanding globally. At the same time, issuance activity has started to increase significantly, supported in part by the introduction of Social Bond Principles and Sustainability Bond Guidelines. Market standardisation and growing awareness about social inequalities are likely to support further growth of the sector.
A leading underwriter in the Nordic market
Danske Bank is one of the leading underwriters in the Nordic Green and Social Bond market. We support our clients through a combination of long standing product expertise and distribution capabilities in Europe and the Nordic area, with its high concentration of investors specialised in sustainable investments. In 2017 Danske Bank lead managed 13 transactions in the market of Green, Social and Sustainability Bonds with a combined volume of USD 1.7bn.