Danske Bank can provide you with advice on how to establish your framework for Green, Social or Sustainability Bonds. We can help you find the right second opinion provider for your bond project and assist you in the documentation process. Our experts can guide you on your journey to access the bond market by providing expert input for the establishment of the reporting framework and by connecting you with the investor base for Green, Social and Sustainability Bonds. With our help accessing the market for Green, Social and Sustainability Bonds becomes a seamless process ranging from framework design to bond issuance and reporting.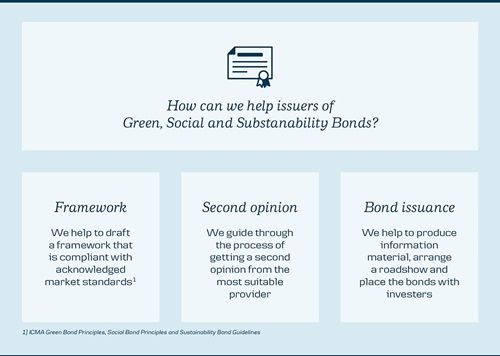 As an intermediary between issuers and investors in Sustainable Finance, we believe that dialogue is key for the development of the market, be it in day-to-day conversations or at sustainability events that we host. We support investors in Green, Social and Sustainability Bonds by supplying market intelligence and analysis. Through an internal evaluation process, which involves a Sustainability Committee, we provide investors with assurance on specific Green, Social and Sustainability Bond transactions.

Our DCM team operates out of offices in Copenhagen, Helsinki, Oslo, Stockholm and London. The primary client focus is on Financial, Corporate and SSA (Sovereign, Supranational and Agency) issuers. Dedicated bond sales teams located in the major financial hubs of Northern Europe provide far-reaching access to the Nordic investor base. As the largest market-maker for Nordic fixed income and credit bonds Danske Bank is a key liquidity provider in the secondary market.