The international shipping industry accounts for 2-3 % of global Greenhouse Gas (GHG) emissions annually. This is equivalent to the annual emissions of Germany.

As a consequence, the UN's International Maritime Organisation has set the sector a clear goal: International shipping must reduce its total annual GHG emissions by at least 50% by 2050 based on 2008 levels.
To reach this goal, global shipping banks in collaboration with leading industry players and external experts have developed the Poseidon Principles – a framework for assessing and disclosing the climate alignment of financial institutions' shipping portfolios.
"Introduction of Poseidon Principles reporting gives banks a helpful tool to actively monitor the carbon footprint of their shipping portfolios. Implementing lending criteria which contribute to reducing emissions and ensure compliance with future emission targets is a key priority. The Poseidon Principles are raising banks' environmental awareness and we in Danske Bank will use the Poseidon Principles actively going forward when supporting the shipping sector's efforts to reduce its carbon footprint," says Einar Stavrum, Global Head of Shipping at Danske Bank.
Danske Bank's Climate Alignment Score
In the newly released report, Danske Bank gets a Portfolio Climate Alignment Score of 11.9%.

The Climate Alignment Score is measured by collecting data about fuel consumption, vessel type and distance travelled for each vessel in the bank's loan portfolio. Using these parameters, the carbon intensity per vessel has been calculated and compared with the decarbonization trajectory for its ship type.

In this way, a portfolio alignment score of +11.9% means that the bank's portfolio is higher than the 2019 trajectories.

"We are pleased to be part of the first Poseidon Principles reporting and look forward to use the findings actively in discussions with our shipping customers in order to improve our portfolio climate alignment score in the years to come, and thereby supporting the international shipping sectors transformation and help finance its decarbonisation," says Einar Stavrum.
Read more about Danske Bank's Climate Alignment Score and the score of the other 14 signatory banks in The Poseidon Principles Annual Disclosure Report 2020 here.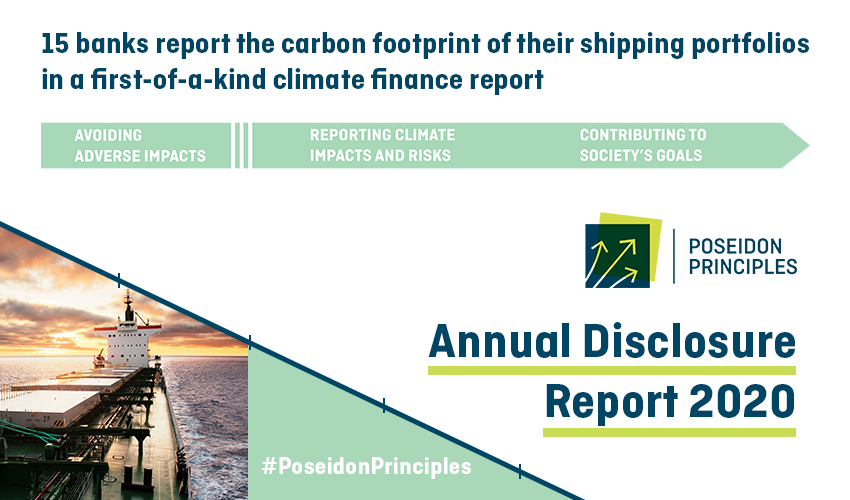 Read more about Poseidon Principles and the most frequently asked questions: https://www.poseidonprinciples.org/faqs/