When Russia launched its attack on Ukraine in the early hours of 24 February last year, Europe changed from one day to the next. TV pictures of burning buildings in Kyiv were an unpleasant reminder that military conflicts in Europe are no longer merely consigned to history.

One year on from Russia's invasion, the war has caused both untold human suffering and economic losses that stretches far beyond Ukraine's borders.

According to the International Monetary Fund, the IMF, Ukraine probably lost one third of its GDP last year, while the OECD puts the total cost of the war at USD 2.8 trillion in lost production for the global economy.

Rethinking the economic model
Losses for the global economy stem mainly from higher food and energy prices as well as supply chain disruptions, which according to Danske Bank's report have prompted Europe to rethink its economic model.

"Many European countries have had close economic ties to Russia for decades, with European industry dependent on its cheap fossil fuel. But that model is now being rethought, and a global race is underway to produce more green energy and free Europe of Russian gas," explains Danske Bank chief analyst Minna Kuusisto, who points out that the European Commission plans to invest EUR 210 billion by 2027 on defence and to end our dependence on Russian oil and gas.

Shifting corporate priorities
Danske Bank's report also suggests the war is beginning to influence the priorities of western companies with regard to their future geographical presence.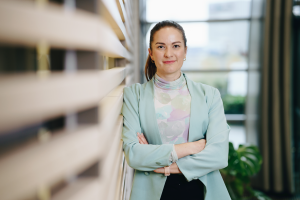 "The benefits that globalisation brought over decades in the shape of increased efficiencies and reduced costs are now being increasingly offset by the risks the process entails. Choosing future production sites and new markets has thus become a more complex decision for many companies," explains Minna Kuusisto.
She notes that geopolitical, security and energy factors now weigh more heavily than before, even though they will likely mean increased expenses for businesses.

"Businesses beginning to onshore their production would benefit some economies, but also hit a number of developing countries, because they will be reluctant to choose sides in the war, and they will then also have difficulty attracting investments from western companies," says Minna Kuusisto.