The first half of 2019 offered several green milestones in Danske Bank and the industry as a whole – from record-setting green bond issuance and the rise of new green loan offerings, to moving one step closer to greener shipping. Here are the 6 highlights.
As the world is facing increasing challenges from climate change, sustainable finance is similarly important, as the green transformation requires new investments and ways of working. The first half of 2019 showed impressive developments within sustainable finance on a global scale – we have gathered the highlights below.

"The first half of 2019 has shown great progress within the area of sustainable finance. It is especially satisfying to take part in global frameworks like Poseidon Principles, which is testament to the strong collaboration and willingness to make a positive impact across the industry," says Samu Slotte, Head of Sustainable Finance in Danske Bank.

"Looking at the green bond market, we are witnessing a very strong growth with several new players stepping into the market. We are very proud to be among the banks globally leading this growth and enabling the transition to a greener economy," adds Lars Mac Key, Head of DCM Sustainable Bonds in Danske Bank.
1. Danske Bank lead manager on biggest Danish Krona green bond to date
In June, Danske Bank was sole lead manager on European Investment Bank (EIB)'s inaugural DKK 3bn Climate Awareness Bond - the largest green bond in DKK to date. EIB is the largest supranational issuer of green bonds with over EUR 24.8bn raised across 12 currencies, and this transaction is EIB's first DKK-denominated bond since 2009. The proceeds will be allocated to activities that contribute to climate change mitigation, including e.g. electricity and heat production from renewable energy sources.

The bond was well received by the investor community and is a natural step, in line with the increased green bond investing activity we have seen from the Danish investor community during 2018 and 2019.
2. Swedish stronghold continues, but Denmark is speeding up
SEK continuous to be the Nordic driver of green bonds. Last year, SEK 72bn was issued, and in the first half of 2019 SEK85bn (USD9.2bn) has already been issued - up 90% from H1 2018. Behind EUR (53%) and USD (25%), SEK is the third most used currency for green bond issuance in H1 2019 with its 8 per cent.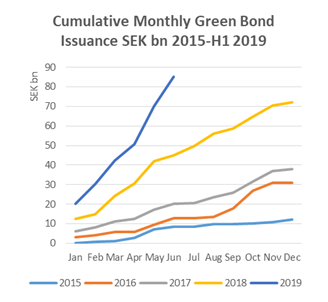 The SEK green bond market is fairly divided by Corporates, Supranationals/Government Agencies and Financials. The major increase in 2019 is the financial sector moving from SEK 7bn in H1 2018 to SEK 24bn in H1 2019. Much thanks to the DNB Boligkreditt's green covered bond of SEK9.7bn and SBAB's green senior non-preferred 3bn and 6bn green covered bond (issued through SCBC).

In Denmark, things start to move as well: Realkredit and Nykredit have both opened lines for green DKK mortgage bonds. Danish issuers like Danske Bank and European Energy issued green bonds in EUR and Ørsted in GBP. In late June, EIB issued the aforementioned DKK 3bn climate awareness bond.

Looking at the origin of the issuer, three Nordic countries are represented in the top 20 in H1 2019, with Norway just out of the table.

3. Global green bond issuance set new records
In an overall perspective, global green bond issuance reached record highs in H1 2019. With the equivalent of USD 121bn green bond issuance, it outperformed the previous record from 2018 of USD103.

Corporates alone stand for USD 50bn, which is more than a 100% increase from H1 2018. 117 unique corporate issuers took part of the green bond market in H1 2019. The EUR market alone stood for more than half of the volume.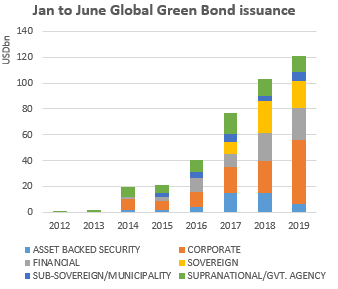 The second largest issuer is Financials with 67 unique issuers with USD 25bn of issuance (USD 22bn H1 2018).

Even if sovereign issuance was a bit less in H1 2019 (USD 20bn vs. H1 2018 24bn), the trend of new sovereigns entering the green bond market continues, among those Chile - the first ever American sovereign to issue a green bond – and Korea, Hong Kong and the Netherlands.

To the Green Bond issuance, the Social and Sustainability Bond issuance increased too, with USD 20bn of issuance in H1 2019 compared to USD 15bn in H1 2018.

In H1 2019, Danske Bank arranged green bonds for USD 6.8bn, with league credit of USD 2.9bn. This resulted in a number 9 ranking in Bloomberg's Global Green Bond League Table, and Danske Bank is thus the highest ranked Nordic bank for green bonds arranging.
4. EUR issuance by far exceeded last year's amount
EUR issuance increased from EUR32bn in H1 2018 to EUR56bn in H1 2019 - EUR56bn is In fact exactly the same amount that was issued in EUR full year 2018.
As in the global context, corporates continues to be the main driver with 31 issuers and EUR 24bn. In addition to repeat issuers like ADIF, Engie, Enel and Iberdrola, newcomers to the EUR green bond market include Telefonica, Vodafone, ESB and Vattenfall.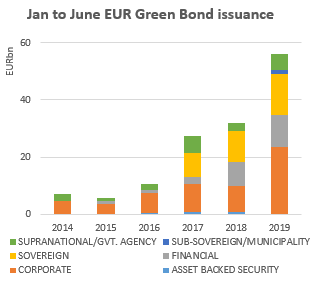 Also, financial institutions had a fantastic first half of 2019 with EUR 11bn of issuance, and inaugural green bond issuance from the likes of Danske Bank, OP Finance, Leaseplan and Citigroup, and repeat issuers like BNP, ING and Credit Agricole. Sovereigns repeat issuers France, Belgium and Poland together issued EUR7.5bn, while newcomers Chile and the Netherlands together issued EUR6.8bn.
Danske Bank have entered the position as the leading Nordic Bank with regard to green bond issuance in EUR and Nordic currencies. During the first half of 2019, Danske Bank climbed to a number 6 spot at Bloomberg's Green Bond Lead Table.
5. Danske Bank issued first green loan, and sustainability-linked loans are on the rise
In June, Danske Bank supported Finnish Kuusakoski Recycling with a green loan, which will be used to finance an upgrade and expansion of their recycling operations in the Heinola Plant in Finland. The entire business model of Kuusakoski supports the transition to a circular economy, and the specific investments in the Heinola Plant will enhance the utilisation rate of waste materials: The new investment will increase the amount of metals sent for recycling by approximately 2000 tonnes a year.
In addition to this, sustainability-linked loans are on the rise, and offer a new kind of financing agreement with lower interest rates in exchange for meeting environmental, social and governance targets. Among others, Danske Bank - as a co-coordinator as well as documentation and facility agent - helped Outokumpu, a global leader in stainless steel, with a secured EUR 400 million term sustainability linked loan. Here, the margin of the loan is linked to the total recordable incident frequency rate and carbon dioxide emission per ton of stainless steel produced - both in relation to set targets.
6. New financing principles promote greener global shipping
With Poseidon Principles, Danske Bank and other leading international banks for the first time integrate climate considerations into lending decisions to incentivize maritime shipping's de-carbonization. Poseidon Principles is a global framework for assessing and disclosing the climate alignment of financial institutions' shipping portfolios - this means that Danske Bank will integrate climate considerations into lending decisions to incentivize the de-carbonization of maritime shipping.
The Poseidon Principles are consistent with the policies and ambitions of the Initial GHG Strategy adopted in April 2018 by member states of the International Maritime Organization (IMO). This strategy prescribes that the industry must reduce the total annual GHG emissions by at least 50% of 2008 levels by 2050, with a strong emphasis on zero emissions.
Source: Danske Bank and Bloomberg.
*1: Subject to not all bonds being reported as green yet, among those the June issuance of Fannie Mae.